Learn about one of the most basic building blocks of a successful strategy: Brand Hierarchy.
There are many characteristics that define your brand. One of the most basic building blocks of a successful strategy is Brand Hierarchy. While most of the focus for brand marketing should be on prospects and customers, the Brand Hierarchy should be a reflection of your business objectives and strategy.
Here are three common models for Brand Hierarchy:
Branded House Model
A company that markets as a Branded House is expressing its value proposition in a single, unified voice. In most cases, the corporate name and brand identity is one and the same. Often cited examples of the Branded House model include John Deere, Harley Davidson and Virgin.
In each of these examples the common thread is a flagship brand covering all of the company's businesses and divisions. Whether they market to a single category like Harley Davidson, several nearby categories like John Deere, or a wide variety of categories like Virgin, each company has established an overarching brand promise and position for its products and services.
House of Brands Model
Another Brand Hierarchy approach is known as a House of Brands, where organizations market two or more different (house) brands. Large consumer companies like Procter & Gamble, Yum! Brands and Unilever are all well-known examples of this approach.
The House of Brands model typically applies the core strengths and infrastructure of the parent corporation to a variety of markets through one or more standalone house brands. This strategy allows each brand to establish distinct value and meaning with prospects and customers.
Hybrid Brand Model
A third approach to Brand Hierarchy is commonly referred to as the Hybrid Brand model. When the business strategy isn't served by either a Branded House or House of Brands approach, companies apply elements of both. Coca Cola, Marriott and General Motors are three businesses that exemplify a Hybrid Brand structure.
Often times, the Hybrid models start with a flagship brand and expand to diversify and/or grow market share. The Coca Cola company has leveraged the strength of its namesake brand with a variety of flagship brand extensions (Diet Coke) and house brands (Sprite). Marriott uses a similar approach with a strong flagship brand, brand extensions (JT Marriott), endorser brands (Courtyard by Marriott) and house brands (The Ritz Carlton).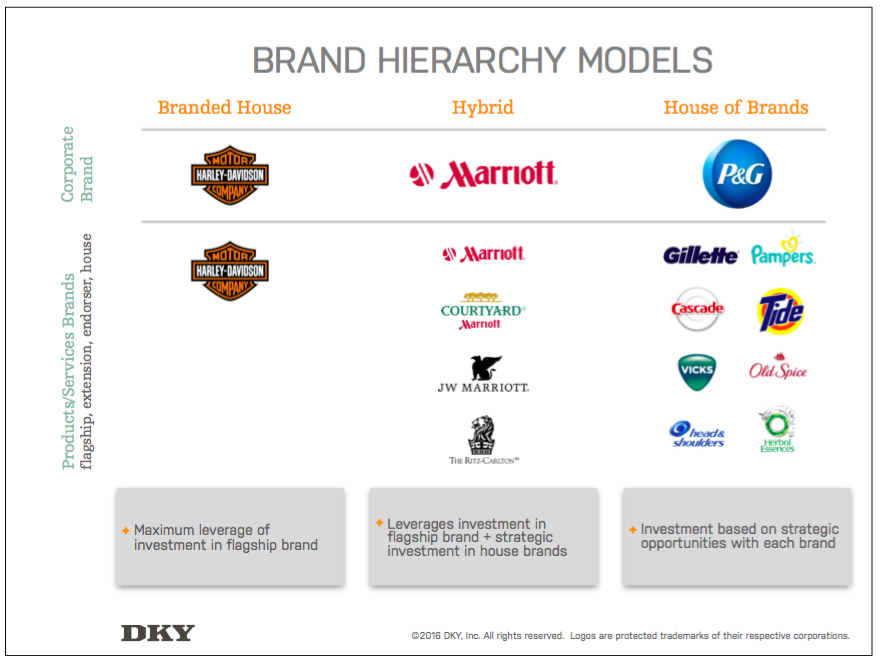 So which Brand Hierarchy model is right for you?
Let your business plan be your guide. Brands that Ring True need to connect with their target audiences deeply. They need to communicate and deliver value. They need to offer something that is both important and differentiated.
Companies that have a strong, overarching value proposition are strong candidates for a Branded House.
Businesses that want to reach diverse markets with a variety of more tailored value propositions are more likely to require a House of Brands approach.
Organizations that have a strong flagship brand to support, but still plan to serve new markets with different brand experiences should consider a Hybrid Brand model.
No model is better than another. The key is understanding your business goals and making sure that your Brand Hierarchy is properly aligned to support brand marketing success.